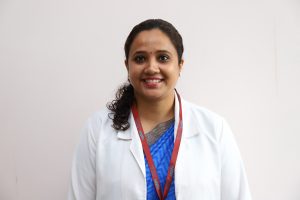 Dr. Rekha R
Senior Lecturer
BDS, MDS, FBOCI
rekhar925@vimsmail.com
Dr. Rekha R is a Graduate of the Government Dental College and Research Institute,Bengaluru (2015), with a Masters (MDS) in Prosthodontics from Raja Rajeswari Dental College and Hospital, Bengaluru (2020).
Her repertoire of academic credentials also carries a Fellowship Program in Implant Dentistry from Branemark Osseointegration Center India associate of the Branemark Osseointegration Center (ABOC) Sweden in 2021. Master of Arts in Psychology ( M.A. in Psychology) form the Indira Gandhi National Open University -(IGNOU), New Delhi  in 2022. Her current field of interest include Implantology and Maxillofacial Prosthodontics.
During her post-graduation, she attended various state and national conventions and conferences where her presentations won her the "Best Paper" & "Best Poster" Award. Her poster entitled " Innovations in Dentistry" was recognized for its fresh perspective and outlook on extrapolative applications in a practical context.
Her contribution to the field of Dental Research includes her extensive studies on modifying denture base resins and descriptive analytics comparing optical properties of existing aesthetic restorative core materials.
Her desire to enrich lives of students took its formative steps during her graduation when she was the Co-General Secretary for the Student Committee.
Being an NCC 'C' Certificate holder, Dr Rekha believes the rigours of training has helped her inculcate the discipline that is necessary to establish a firm footing in Academic Excellence while focusing on creating meaningful learning experiences for students.
This aspect drives her passion as a Senior Lecturer to imbue innovative learning methods and practical applications in real life situations to add value to student learning and their overall Professional Competence.