PREAMBLE
Our E -governance system was designed with the sole vision of enhancing the system of governance for development of the Institute by leveraging new and cutting edge technologies.
The broad areas of e-governance are in the area of examinations, admissions, day to day operations of departments, academics, placements management information systems and stake holder's inclusion in a staged manner.
It aims at planning and facilitating any infrastructure for the deployment of cutting edge applications and deployment of solutions for seamless administration of the institute.
Vision:
To enhance the system of governance for the overall development of the institute by leveraging technologies
Mission:
Deploy new solutions and ideas in various departments of the Institute for seamless data access enabling better decision making.
Objectives
Implementation of E-governance in various functioning of the institution
Achieving efficiency in our functioning
Promoting transparency and accountability
Achieving paperless administration of the institution
Facilitating online internal and external communication between various entities of the institution
Providing easy access to information
To maintain the Data on a secure environment.
Making the institution visible globally
Policy:
In order to provide simpler and efficient system of governance within the institution, it is decided to adopt and implement e-governance in maximum activities of our functioning.
Institution to embrace e-governance for the seamless access of data for better decision making at various levels of the organization.
 Area of Implementation:
Website & Social Media
Student Administration including Hostels
Academics
Internal & External Examinations
Communication System
Finance & Accounts
Library
Payment Systems
Placements
Our e- governance system has integrated, user friendly ERP [Enterprise Resource Planning] solutions to automate various modules like Academic Planning, Administration ,Examinations, Finance and Accounting, Admissions and HR wings of the institution and providing the adequate training to all the staff for effective use.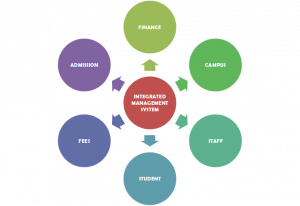 OUR SINGLE ERP PLATFORM FOR MULTI-INSTITUTIONS
ACADEMIC PLANNING AND DEVELOPMENT POLICY
The Institute's MIS [Management Information Systems] works across the institute pertaining to admissions, fees, examination, administration and other standard support facilities.
All staff of the college use the Institute generated E-mail ID generated from IT services of the Institute.
Auto SMS service is used to stay connected with staff, students and parents informing their wards attendance and performance.
Information and Communication Technology [ICT] is used in the process of planning college-events and activities, via personal e-mails .Important notices and reports are also circulated via e-mails.
WhatsApp Group [All Dental Staff – VIDS] is also used to provide the brief notices.
E-governance is in place with related modules of ERP [Enterprise Resource Planning] in terms of planning by maintaining transparency in admission by sharing information to the stake holders through ERP and website. It aims to minimize the manual efforts and improve the communication, create transparent system, and to be cost and time effective.
The Institute's website is designed to be dynamic, interactive by publishing university communication, syllabus updates, internal assessment and related student support interface services.
ADMINISTRATION POLICY
The Administration communicates with Governing Body members as well as the teaching and non-teaching staff through the Institute generated E-mail ID generated from IT services of the Institute.
Auto SMS service is used to stay connected with staff, students and parents.
All-important administrative information including notices is regularly published on the website.
Biometric attendance for all staff members
Fully automated, wireless office with 24×7 internet facility
To achieve the target of Paperless IQAC , committee members of it started using Google facilities like:

Google sheet : For data collection from Various Departments
Google Docs: To prepare notices and activity reports.
Google Forms: To prepare Feedback forms and get online feedbacks of Students, Parents.
The college campus is equipped with CCTV Cameras installed at various places of need.
ICT has been introduced in the Administrative work.
WhatsApp Group [All Dental Staff – VIDS] helps to provide the brief notices of any event happening in college.
WhatsApp Group [All Dental Staff – VIDS] is also used for awareness and of smooth functioning of the same.
FINANCE AND ACCOUNTS POLICIES
The College utilises e-governenance to produce immediate information in Finance and Accounts.
The college uses Tally Prime Gold ERP software for transparent functioning of Accounts Department. The same software is used to generate various reports like Consolidated Day Book, General Day Book and Daily Cash Collection report.
STUDENT ADMISSION AND SUPPORT POLICY
Student Admission is carried out through the Karnataka Examination Authority, Government of Karnataka portal.
The Institute website act as a mirror of  college and hospital information; and is maintained by a full time web developer and team members.
Auto SMS service is used to stay connected with students and parents informing their wards attendance and performance
Student support features are provided on website for the information of students and parents
EXAMINATION POLICY
Examination Process are handled through the RGUHS ERP portal
Filling of examination forms, obtaining admit cards, uploading of marks etc.  is done online via the RGUHS portal
The Institute oversees the complete process of examination under the guidance of the RGUHS Examination Controller.